A Town By Any Other Name
Words by Jason Davis, Art and Photos by Porter McDonald
Truth or Consequences is a town of juxtapositions.
Located in New Mexico's dry Chihuahuan desert, summer temperatures here regularly exceed 100 degrees. Yet there is water, and lots of it: the Rio Grande snakes through town after pausing to form Elephant Butte Lake, the state's largest body of water. A rift in Earth's crust along the river creates mineral-rich hot springs that have been attracting travelers for more than a century.
Artists have called the town home for years. There are galleries, murals, and colorful buildings throughout downtown, which boasts antique stores, restaurants, and a brewery. But the majority of T or C, as it is commonly known, still feels pretty rough. The town of 6,000 sits in a poor county in a poor state. More than 20 percent of New Mexicans live below the poverty line, and here, in Sierra County, the number is 22.1 percent.
And then there's the biggest, weirdest juxtaposition of them all: this dusty western town sits just 30 miles from the world's first purpose-built, commercial spaceport: Spaceport America.
Spaceport America's anchor tenant, Virgin Galactic, plans to one day fly tourists into space for a few minutes of weightlessness aboard a rocket-powered space plane. But nine years after a groundbreaking ceremony in 2009, Virgin has yet to fly a single passenger. In 2014, its spaceplane was destroyed during a test flight in California, killing one pilot. Just this year, the company finally bounced back to the point where it is conducting test flights of its replacement vehicle.
Space entrepreneurs like Virgin CEO Richard Branson often claim they are democratizing spaceflight. But no one in T or C is going to space anytime soon. A Virgin ticket costs $250,000, more than three times the town's median home price. Adding to the insult is a quarter-percent sales tax residents have been paying for 10 years.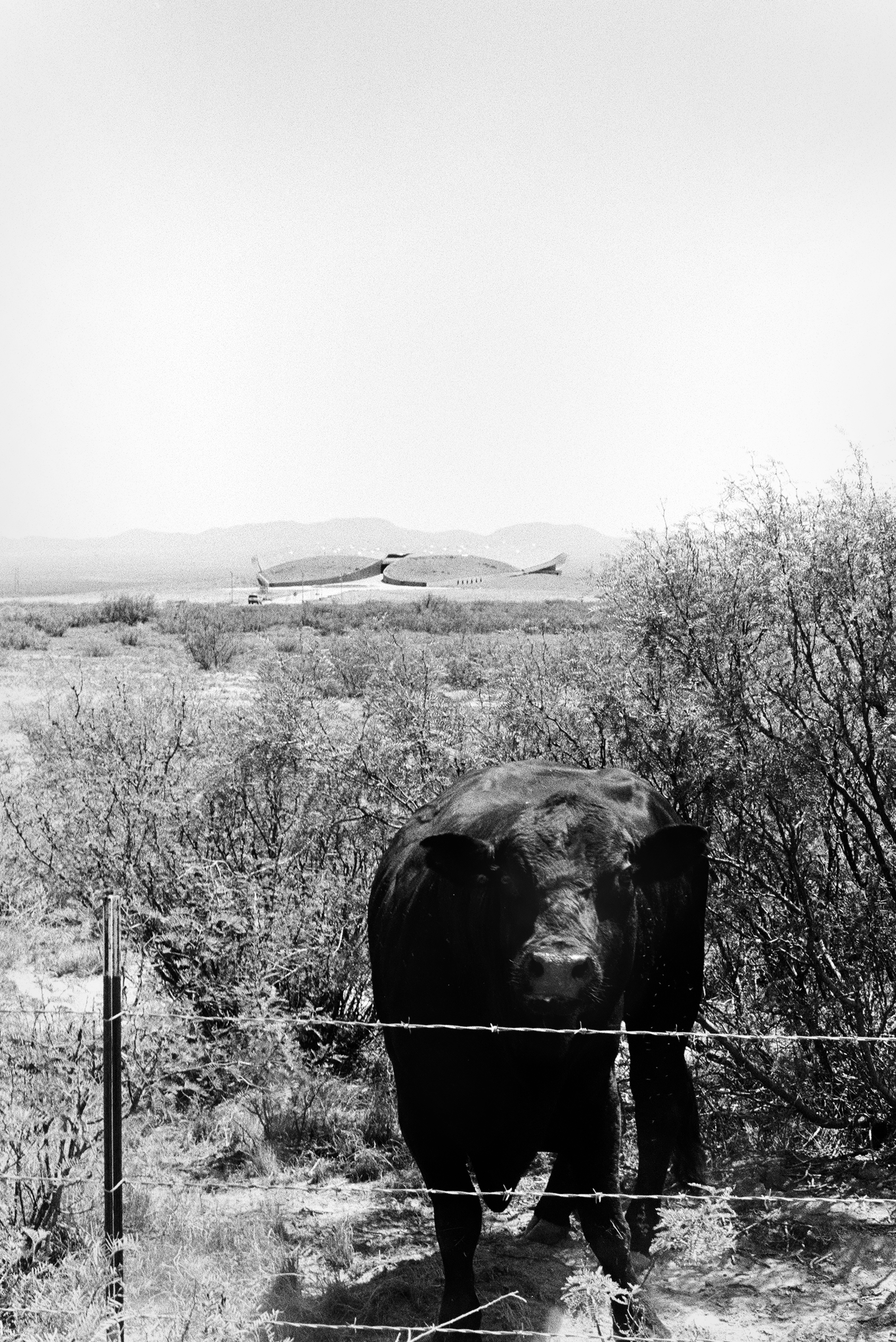 On a July evening, I left Tucson with my ROCKETGUT! co-creator, Porter McDonald, for the four-and-a-half hour drive to T or C. Porter had been there; I had not. As we drove through a midsummer monsoon, we debated whether the town was getting screwed by the spaceport. We struggled to reconcile our love of spaceflight with the fact that Virgin's core product is joy rides for the wealthy.
But when we got to town, the debate gave way to a more urgent matter: going for a soak in the hot springs bathhouse at our hotel. We changed into swim trunks. Porter poured some mezcal into coffee mugs while I donned a robe.
"You're going full robe?" he asked.
"Full robe," I said.
He followed suit, and we shuffled across the hotel courtyard in the 90-degree evening heat, sweating like awkward tourists. A front desk attendant told us one of the pools was on the threshold of being unsafe because it was too hot. Porter picked that one.
It's a rush dipping your body into water that makes your skin cells scream. We both managed to get all the way in, sitting head to toe in a pool not much bigger than a bathtub. Meditative music played in the distance. A ceiling fan quietly whirred overhead. We clinked mezcal mugs and relaxed.
Then I felt something among the river rocks on the bottom of the tub. It was plasticy, like a food wrapper. I reached down and pulled out a translucent, rectangular patch stamped FENTANYL—an on-the-nose reminder of the opioid crisis in rural America. Welcome to T or C.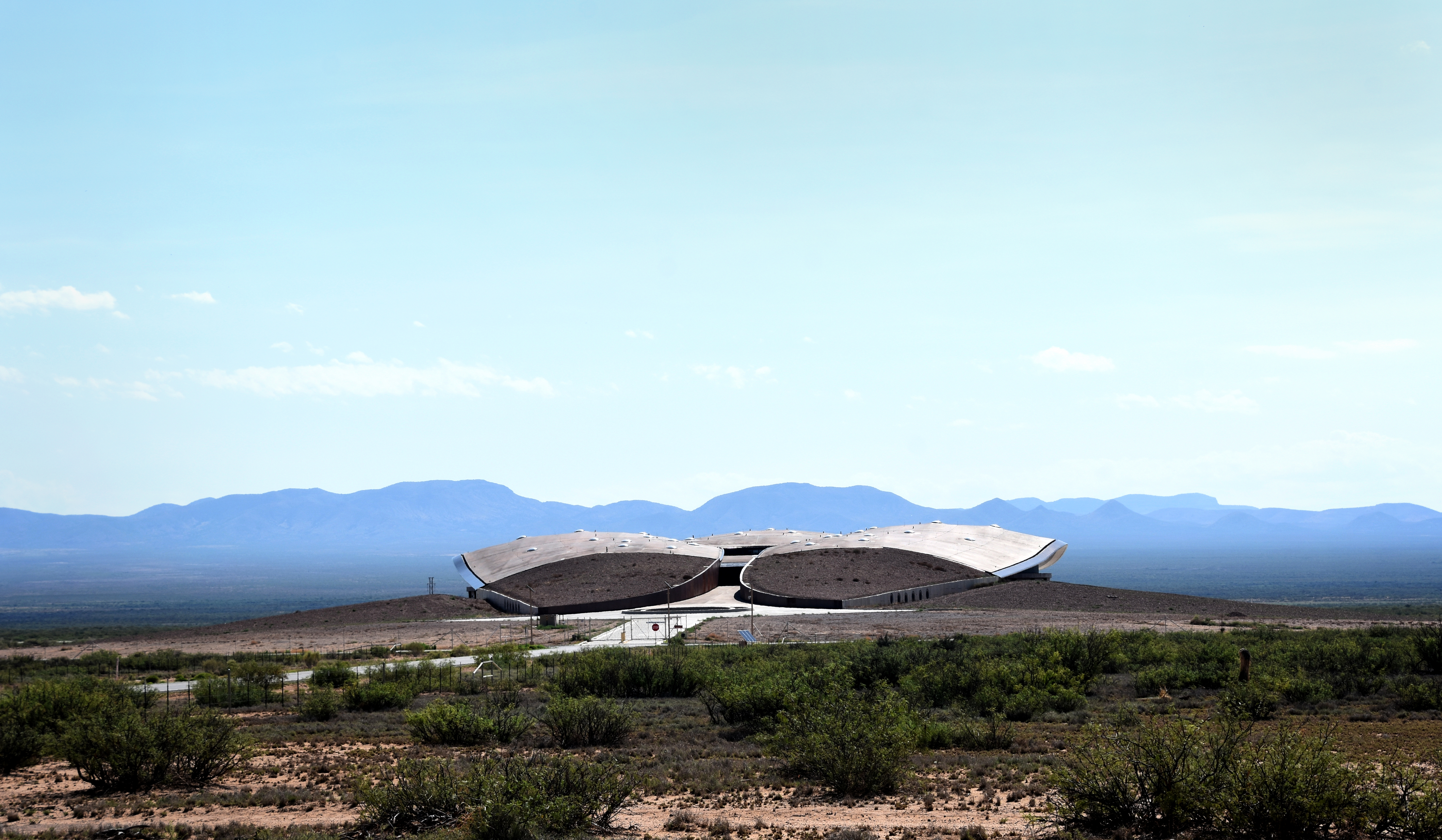 The next morning, we left town for the 45-minute drive to Spaceport America. The road was littered with road kill, as if the animals aren't used to much traffic. We saw mangled jackrabbits, squished snakes, and unidentifiable piles of viscera warming up in the morning sun.
These critters have an ally in Bill Gutman, the vice president of spaceport operations, who met us at the front gates. Just that morning, Gutman said, he'd stopped to usher a nonvenomous gopher snake off the road. This story gave him instant southwestern cred; gophers imitate rattlesnakes to intimidate would-be predators.
Gutman, who has neatly trimmed white hair and glasses that frame his friendly, angular face, wore a white Spaceport America polo tucked into dark jeans. He is a steady, well-spoken physicist who used to work at New Mexico State University's Physical Science Laboratory, and has been involved with plans to bring a spaceport to the desert since the mid-1990s. He lives in Las Cruces, a larger city of about 100,000 to the south. Spaceport America has offices there, and like many other employees, Gutman splits his time between the two locations. A new road shortens the drive from Las Cruces to an hour and fifteen minutes; nevertheless, T or C is still a half-hour closer.
On the Friday we visited, Spaceport America was a ghost town. The only people we saw were two security guards and some firefighters. Gutman said there are typically about 20 people here, but most work remotely on Fridays. Another 40 or so work out of Las Cruces offices, he said. The shared workspaces we passed appeared devoid of human presence, like people used to work here, and may work here again someday.
The spaceport's main building is a terminal and hangar for Virgin Galactic. From the west, it barely rises above the desert horizon as two bulbous, brown wings. This was done to preserve the "historic vistas" of the Camino Royale trail, which runs from Mexico to Sante Fe. The partially gravel-covered roof blends in to the surrounding topography; native plants are currently being allowed to overtake the roof and reclaim it as part of the landscape.
The spaceport has no discernible entrance; rust-colored panels will one day slide open like Star Trek doors when space tourists approach. Gutman pushed open a side panel and we walked into a darkened visitor's center. He turned on the power and exhibits gradually whirred to life, playing inspirational videos about how the spaceport will usher in humanity's next frontier.
In the middle of the exhibits sat a "G-Shock" astronaut trainer that spins you in three directions. Gutman helped me take it for a spin. It was fun in a carnival ride sort of way where your options are either clenching up and suffering through it, or just relaxing and going for the ride. As I stumbled out of the trainer, dazed—much to Porter's delight—it occured to me that if Virgin's passengers get thrown around like that, it will be because things have gone terribly wrong.
A single window in the visitor's center looks into a giant hangar built for Virgin's White Knight One, the dual-cockpit airplane that carries Spaceship Two, the spaceplane, beneath its belly. In action, White Knight One flies up to around 9 miles—a little higher than a commercial airliner's cruising altitude—and releases SpaceShip Two. The spaceplane then lights a rocket engine and blasts off for space. After a few minutes of weightlessness, it glides home and lands on a giant runway stretching out next to the spaceport.
Right now, White Knight One and Spaceship Two are still in California's Mojave desert undergoing testing. The cavernous hangar was empty and pristine. Nary a spaceship, work cart, or wrench could be seen.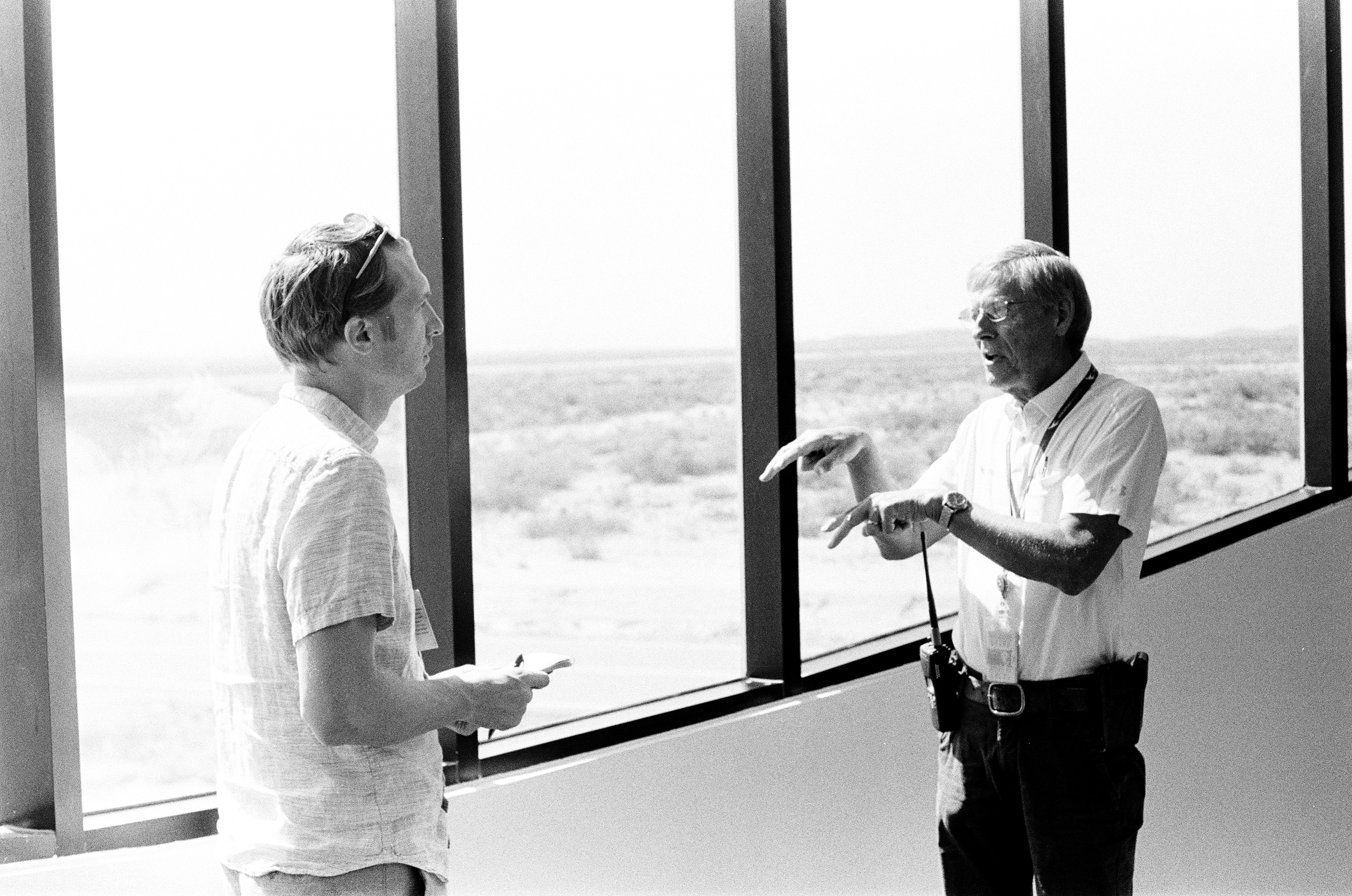 Gutman drives us out to the runway, and we take in the scene. Far to the west lie the San Andres Mountains, which mark the boundary of White Sands Missile Range, the country's largest military installation. Spaceport America is located where it is because of White Sands. The land here was already state-owned, and it wasn't a big deal to add a little more restricted airspace to an area commercial flights already avoid.
Things do, in fact, fly from Spaceport America—a fact overshadowed by Virgin's continuing delays. Boeing has used the spaceport for parachute tests of its CST-100 spacecraft, which will carry astronauts to the International Space Station. UP Aerospace, which launches small, suborbital rockets, has flown at least 13 missions from a small pad about five-and-a-half kilometers southwest of the spaceport terminal. Another company, Exos Aerospace, recently tested its reusable, suborbital rocket for the very first time.
Spaceport America was built upon the premise that it could get out ahead of a burgeoning commercial space movement. That movement has arrived, and Virgin now has competition. The company's biggest rival is Blue Origin, owned by Amazon founder Jeff Bezos. Unlike Virgin, Blue has already flown to space several times from its west Texas launch site, using a reusable rocket and capsule system called New Shepard.
Blue has no fancy spaceport, and has yet to sell tickets or even name a price for tourist flights. Nevertheless, it's entirely possible Bezos, not Branson, will fly the first commercial space tourists.
"We'd be very sad to see that happen, but we have very hot prospects from a number of private firms that we can't really talk about," Gutman said. "It would be a short-term blip, just as what happened when they had the accident. It set us back, but it certainly didn't kill us—there were those who were predicting our imminent demise, and it never happened."
As we talked, the spaceport's $1 million ARFF truck—short for Aircraft Rescue and Firefighting—drove out onto the runway. The ARFF truck has an infrared camera to see through smoke, and cannons capable of dispensing water and firefighting chemicals without firefighters having to leave the cab. Every day, for practice, they take it out and drive it to the end of the runway.
Spaceport America always has four firefighters on duty, mostly to protect the two buildings. At the moment, there isn't much for them to do except put out occasional brush fires and offer emergency assistance to nearby communities. The only thing likely to crash-land at the spaceport right now would be a wayward Air Force jet from White Sands.
The ARFF truck pauses in the distance, shimmering in the heat like a mirage. It leaves the runway, and the spaceport is quiet once again.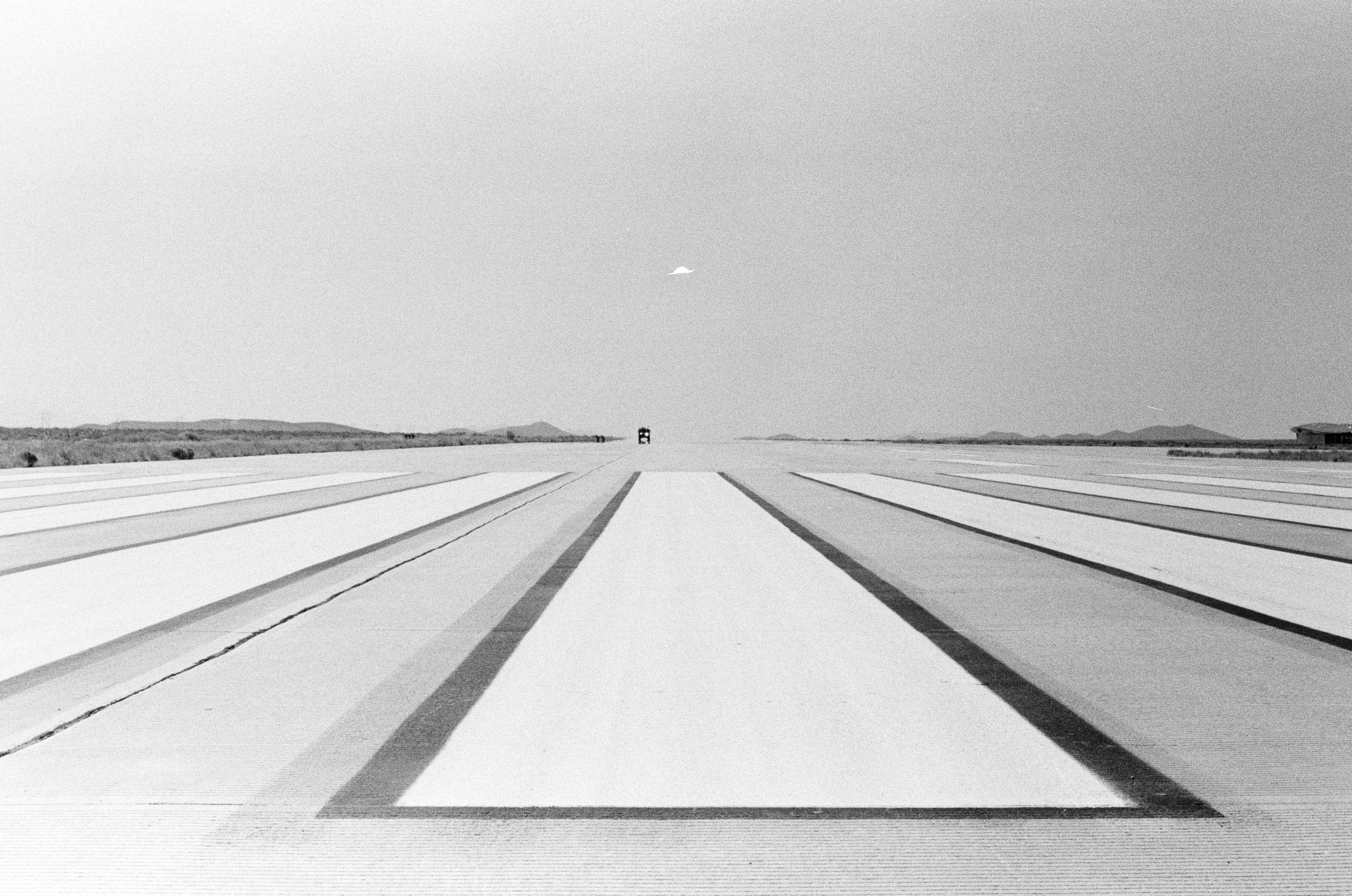 T or C has a history of getting caught up in grand schemes that lead to mixed results. It was originally named Hot Springs until, in 1950, the NBC radio game show "Truth or Consequences" held a contest offering free publicity to any town that changed its name to Truth or Consequences. Hot Springs took NBC up on the offer, and the radio show broadcast live from T or C on April Fool's Day. There were efforts to rename the town back to Hot Springs in the 1950s and 60s, but citizens voted down the proposals each time.
About 20 years ago, a company that built home shutters considered opening a factory in T or C, promising to become an anchor business employing lots of people. The deal fell through. Later, there was talk of building a NASCAR racetrack near Interstate 25, which follows the Rio Grande from Las Cruces up to Santa Fe. That didn't happen either.
In 2008, New Mexico faced a shortfall as it tried to scare up taxpayer funding for what has now become a $220 million spaceport. The state turned to Sierra county and its neighbor, Doña Ana county, which is home to Las Cruces. Both counties approved quarter-percent sales tax increases. The tax was favored two-to-one in Sierra county, but 10 years later it has become a source of resentment for residents who have yet to see much benefit.
"Nobody likes Richard Branson in this town," said the owner of a thrift store on Broadway Street, lamenting that Virgin has started new projects elsewhere—such as promising to bring space flights to Italy—before delivering in T or C. A waiter at the Pacific Grill, on Date Street, had a similar opinion: "They've been saying it's going to be ready for about seven years," she said. "We just keep waiting and waiting."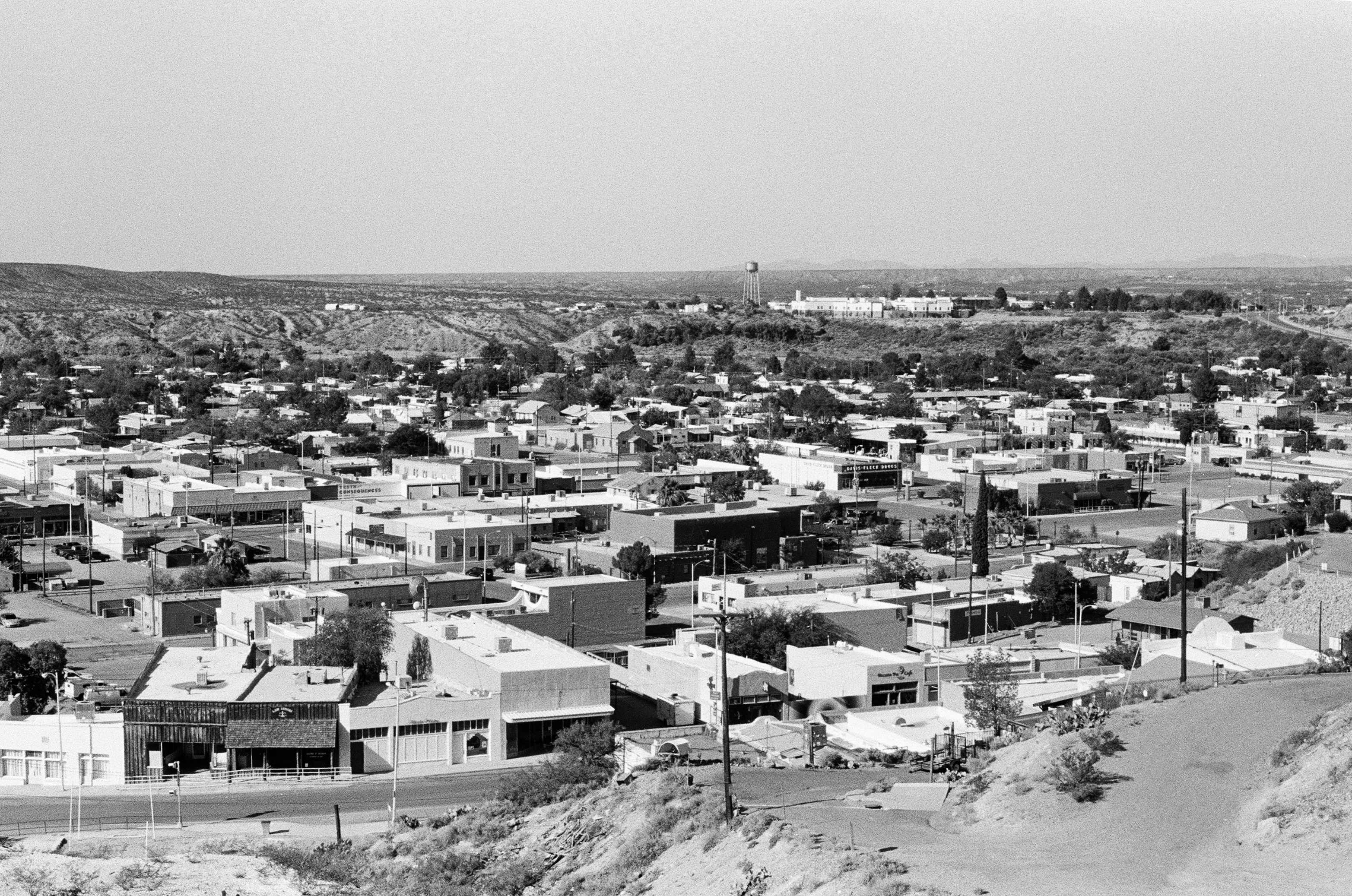 "The only thing they know is that the spaceport is going to send rich people into space," said Linda DeMarino, the executive director of MainStreet Truth or Consequences, a group dedicated to promoting and revitalizing the city's downtown. She said many residents see the situation as: "Why should I support that? Why should I pay taxes to send rich people into space?"
DeMarino was drawn here by a friend in 2000 and has watched the town's vibrant art scene take hold, led by a man named Sid Bryan who began painting downtown buildings lots of different, funky colors. Entrepreneurs began renovating hotels with access to the hot springs, and the town gradually started to reclaim its allure as a tourist destination.
After the spaceport broke ground in 2009, more businesses sprung up, fueled by the town's low rent (DeMarino said a commercial storefront might lease for just $600 per month). But not every would-be business owner did their homework, and some shops closed just as quickly as they opened. The low point came in 2014, after Virgin Galactic's fatal accident in California.
"It seemed as though some businesses were just holding on, waiting for the spaceport, and after that, they gave up hope," DeMarino said.
Steve Green, the mayor of T or C, was elected in 2008, the same year the tax initiative passed.
"People thought they'd vote for this and the streets would be paved with gold," he said, noting that the tax does not apply to staples like groceries and medicine, and shouldn't have much of an impact on T or C's most vulnerable residents.
"If you go out and buy a plasma television for $400, it's only going to cost you $1," said Green. Nevertheless, he sympathizes with peoples' frustrations. "The worst three-letter-word a politician can mention is 'tax.' And god forbid you say 'increase' after that."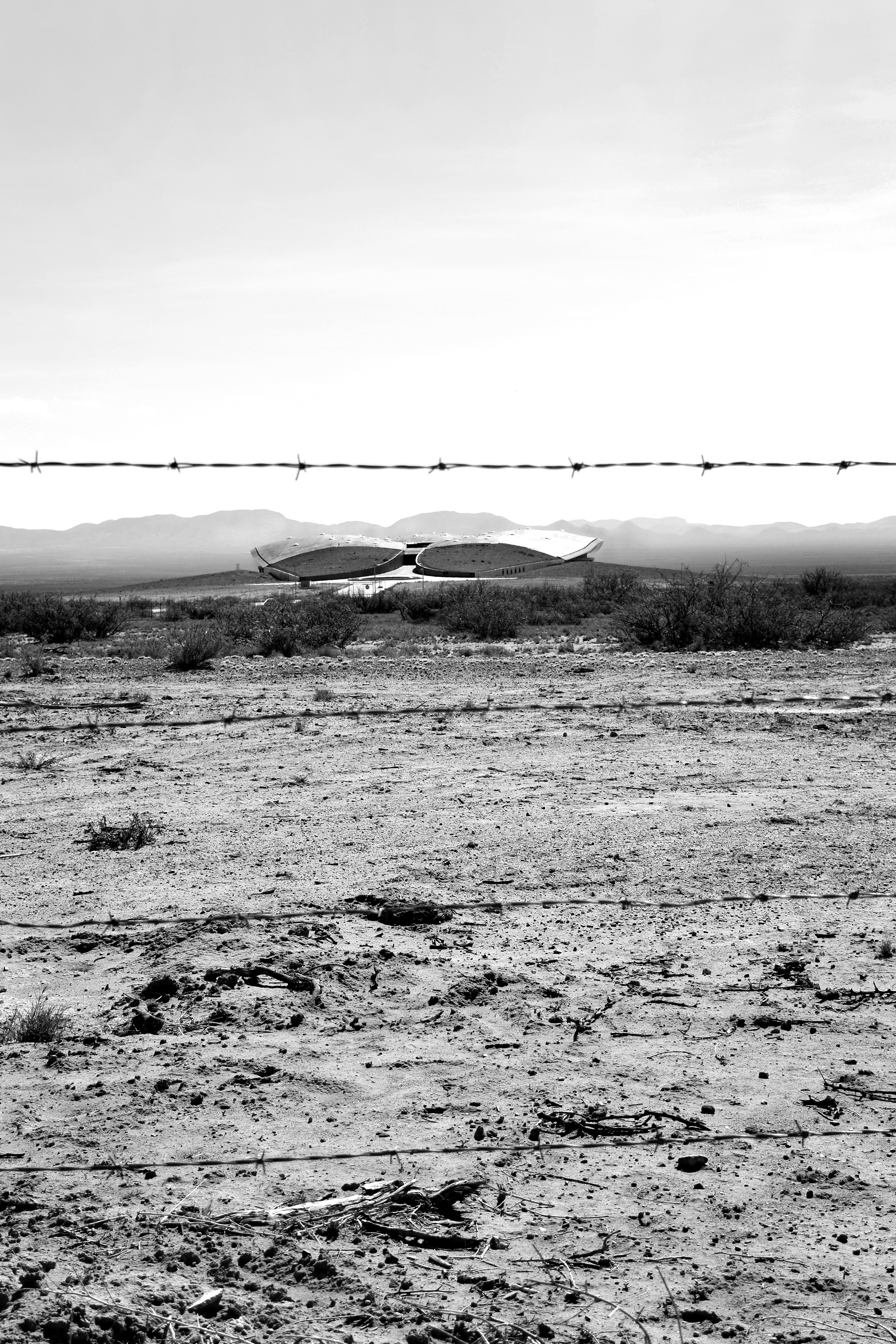 Spaceport America says it is already providing a worthwhile return on taxpayers' investments, even though Virgin has yet to fly anyone to space. The spaceport claimed it made a $20 million impact on New Mexico's economy in 2016, from a state investment of just $944,000 that year. The number is featured prominently on its website, but an investigation by an NBC News station in El Paso found no evidence to support the claim other than a five-slide PowerPoint presentation seemingly based on anecdotal evidence. NBC also pointed out the spaceport did not account for $6.2 million in taxes Doña Ana county residents paid that same year.
One of the spaceport's most tangible impacts may be its STEM programs. For two years straight, a flood of college students have come here for the Spaceport America Cup, a competition that involves launching rockets that fly up to five-and-a-half miles high. The spaceport also offers educational programs for schoolchildren as close as New Mexico and as far away as Australia. Gutman, who already does everything from monitoring commercial launches to giving media tours, helps lead this program, too. Porter and I joked that the entire spaceport staff might actually just be Gutman wearing different disguises.
On April 5, Spaceship Two made the first rocket-powered flight since the company's fatal accident in 2014. A second flight happened on May 29. And just a couple of days after we left T or C, a third occurred.
At some point—Virgin learned long ago not to publicly predict when—White Knight One and Spaceship Two will leave California for Spaceport America, bringing with them employees who will need a place to live and spend money. The majority will likely choose Las Cruces, giving them a longer commute but access to a larger city.
"Is Las Cruces going to get the lion's share? Absolutely," said Green. "But can we pick up some of the ancillary business because of our proximity?"
"We've been working on relocation materials," said DeMarino. "We don't think we'll get the majority, but we'll get some people. For younger families, I think we would be a good choice. It's a slower pace."
Drawing young families to T or C has proved challenging. From 2010 to 2017, the town's population decreased from about 6,500 to 6,000. Green believes the biggest factor is a lack of new residents to replace the town's aging population. The problem, several people told us, is that there isn't a whole lot to do here once you've exhausted all the tourist options.
One new business on Broadway Avenue hopes to change that with a product that's almost as appealing as spaceflight, and a heck of a lot cheaper: beer.
Every year, John Masterson and his wife, Marianne Blaue, took a vacation from their home in Seattle to new, interesting place—preferably somewhere sunny. In 2015, they visited New Mexico, and stopped in T or C during the town's monthly Art Hop, where the downtown gets together for a festival of art, music, and food. Masterson said he and Blaue instantly fell in love with the "colorful, quirky, and cool" town.
There was just one problem: they couldn't find anywhere to get a good beer.
Masterson was a long time home brewer, and had sold his tech company a few years earlier. He and Blaue decided to leave Seattle for T or C and open a brewery. Just a few months later, they had already purchased a building and Masterson was taking classes in Albuquerque to upscale his brewing techniques for larger volumes. They opened the brewery about a year ago, giving it a name that practically sells itself: Truth or Consequences Brewing Company.
We first visited in the late afternoon, because it was the only place we could find to escape the 105-degree heat. The crowd was mostly regulars, including one boisterous drunk man who seemed to be on the verge of either hugging us or fighting us. When we came back later, an entirely new cast of characters had arrived: an elderly woman with a walker, teenagers sipping sodas, and a blend of locals and tourists.
"Sometimes, locals walk in and they know everyone," Masterson said. "Other times, they come in and they don't know anyone."
There was live music; the brewery features local and regional acts every week. Original space art dotted the walls, including a painting of Ed White performing America's first-ever spacewalk. The brewery sells stickers with an astronaut holding a pennant that reads "BEER."
We settled in and ordered a plate of Korean barbeque pork poutine—not something you'd expect to find in a small, rural town—from a food truck behind the brewery. Our table order card was the queen of diamonds from a deck of cards featuring local artwork. The queen was a cartoon Donald Trump flashing wads of cash.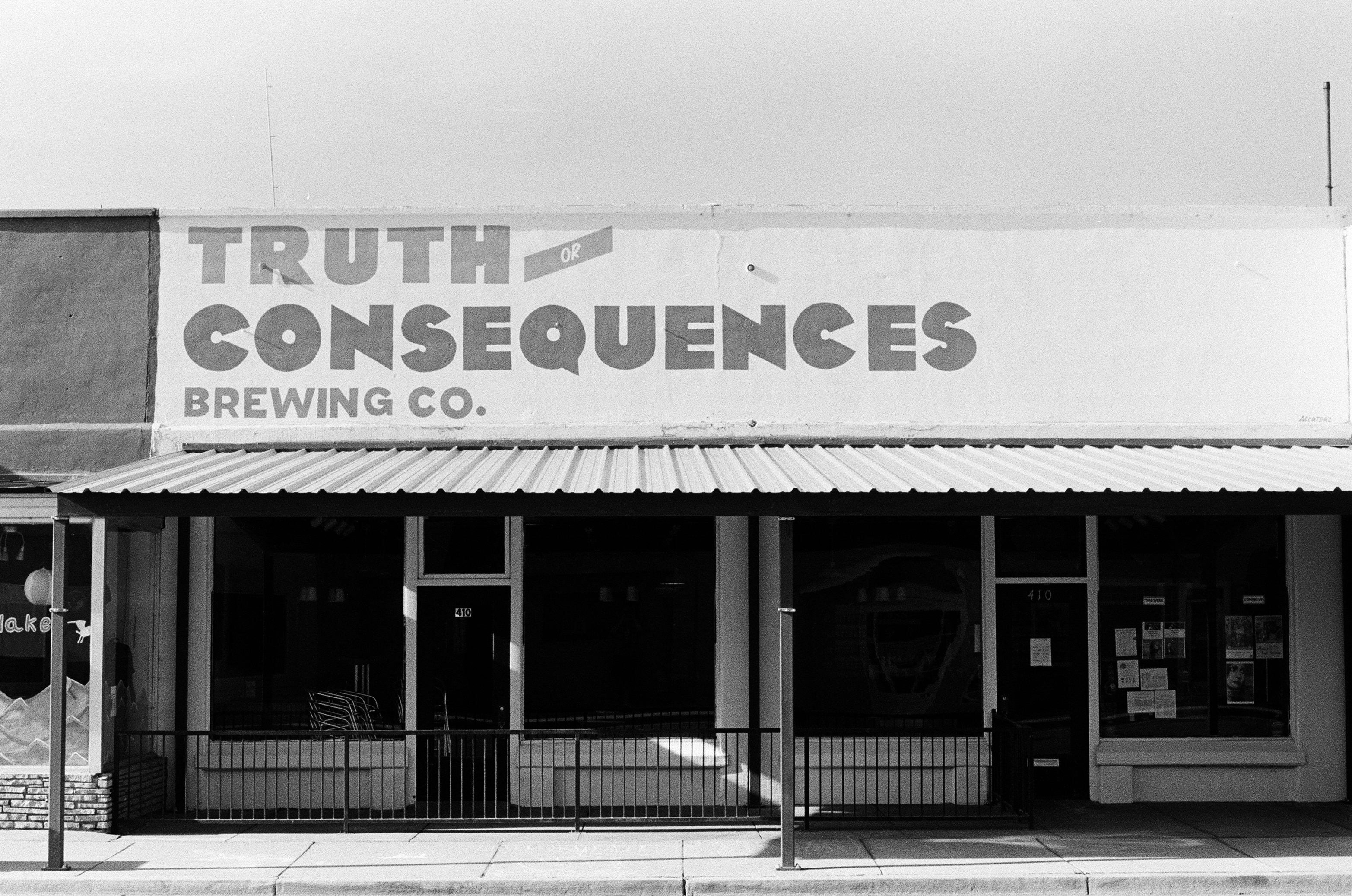 On our way back to Tucson, we decided to swing by Virgin Galactic's "world headquarters" in Las Cruces, which the company established during negotiations with New Mexico to build Spaceport America.
The address led us to a modern office building on the eastern outskirts of Las Cruces. There were signs for doctor's offices and a pilates studio, but no mention of Virgin Galactic. Then, we drove behind the building and saw a half-dozen white Land Rovers with New Jersey license plates. Virgin and Land Rover are corporate partners; Branson stood out the sunroof of a Range Rover towing SpaceShip Two during the vehicle's 2016 unveiling.
Posted next to an umarked door was Virgin's "DNA of flight" motif, which shows a series of aviation silhouettes evolving from Leonardo Da Vinci's ornithopter all the way to SpaceShip Two.
It was the weekend, so nobody was home. Still, as far as "world headquarters" go, it wasn't very impressive, and like the spaceport, a bit weird.
If Virgin and Spaceport America do succeed, they could provide a major boost to the economy in T or C, giving taxpayers a substantial return on their investment. But to say the spaceport controls T or C's fate does the town a disservice.
"People are always looking for a savior, when in fact we don't need anything to save us," DeMarino said.